Shoutbox
Fairies Masquerade
12/07/16 07:47 pm
Hey guys! I'm still taking suggestions/ideas for MOTM through this Friday - that gives you 2 more days! This is for YOU, so we want YOUR input on this! Hit me up with a PM, yo.
subversivegrrl
12/07/16 05:49 pm
Welcome new authors Trogdor19 and Kenzieboyd08!
Septiclovebite
12/06/16 11:16 am
Thanks for the feature, NL, sorry I suck at writing now.
subversivegrrl
12/05/16 07:20 pm
Congrats to SepticLoveBite, whose story "Even Better" is this week's Featured Story!
littleshelly0619
12/04/16 04:41 pm
Argent Gale, if you're reading this, MORE FIVE VEILS, PLEEEEEEEEASE!!!
subversivegrrl
12/02/16 05:13 pm
New link in Writing Resources, under "Post-Apocalypse Realities" - "Medicine in the Post-Apocalyptic Wasteland."
jaibhagwan
12/01/16 09:23 pm
Thanks for chatting everyone!
subversivegrrl
12/01/16 08:07 pm
Chat is happening...
Fairies Masquerade
12/01/16 06:01 pm
HEY GUYS! We are still taking ideas/suggestions for our MOTM revamp. If you have an idea, or just want to give feedback on the previous MOTM setup, PM me! :)
alatarielgildaen
11/30/16 06:13 am
The Caryl AU NaNoWriMo is almost over, and from what I've seen so far, there are going to be some amazing stories heading this way soon. I'm so excited!
untapdtreasure
11/29/16 12:41 pm
I saw that happened in another fandom. I think it would be flattering but at the same time a bit scary if one isn't familiar with the language. I wouldn't want anyone to take credit for the original content but there would have to be credit for the translation. So I'd need more information
subversivegrrl
11/29/16 08:08 am
Hey, authors: if you get an inquiry about translating your story/ies to another language for publication elsewhere, could you let one of the admins know? We know one author has been approached, and we're trying to get a sense of how you feel about the idea.
kaoscraze82
11/28/16 08:49 pm
I love Five Veils! I need MORE Five Veils AG....pretty please!!
Ikkleosu
11/28/16 08:39 am
Congrats to Argent Gale for FSOTW! Five Veils, a Caryl classic!
UncagedMuse
11/25/16 03:44 pm
I am shocked and grateful to have the featured story of the week. Thank you all!
Fairies Masquerade
11/24/16 01:43 pm
We have a new announcement as well! Everyone please go take a look.
Fairies Masquerade
11/24/16 01:43 pm
Welcome new author CMSaints!!
Fairies Masquerade
11/24/16 01:25 pm
To those celebrating: a very happy Thanksgiving! To everyone: a very happy Thursday to you! :)
Fairies Masquerade
11/21/16 09:57 am
Thanks for the birthday love!! Untapdtreasure it's gonna be good! Congrats UncagedMuse!!
Ikkleosu
11/21/16 07:44 am
Congratulations to UncagedMuse for this week's FSOTW!
untapdtreasure
11/20/16 06:53 pm
I miss making Member of the Month banners for this place. <3 Cannot wait to see what 2017 has in store for us here!
Oasis Haze
11/20/16 05:46 pm
Happy, happy birthday, Fairies!! 🎂🎈 Hope you have the best day ever.
kaoscraze82
11/20/16 11:02 am
Happy Birthday FM!!! ***hugs***
subversivegrrl
11/20/16 10:04 am
Heads up, everyone - if you get weird spammy reviews, please PM an admin and we'll take care of them. (only one author reporting them thus far, but we usually find that those things run in cycles.)
serpetinefire
11/20/16 03:13 am
happiest of Birthdays to my Darling Fairies... wishing you many many more. Much love
SUGGESTION BOX: Member of the Month Revamp
Happy Thursday, Nine Lives Family! And to the Americans in the group: Happy Thanksgiving!
Ikkles, Subs and I have been working on revamping our Member of the Month feature that will premiere in January as part of Nine Lives' 3rd Anniversary celebration. We're working things out, incuding resetting the list so that those who have won before are eligible to win again under our new format. We're pretty excited with what we've been cooking up, but before we finalize this event, we want to hear from YOU.
What do you want to see in a new MOTM event?
How should we base our criteria for nomination?
How should we celebrate?
What do you want to know about our winners?
Comment on this announcement OR send a PM with your ideas/suggestions to Fairies Masquerade. We will be taking suggestions for MOTM specifically through the next 2 weeks - through December 9. 
Thank you, friends, and once more: Caryl on!
--Fairies Masquerade on November 24, 2016 1:39pm
4 Comments
Fundraiser Round Up and Lotto/Auction Winners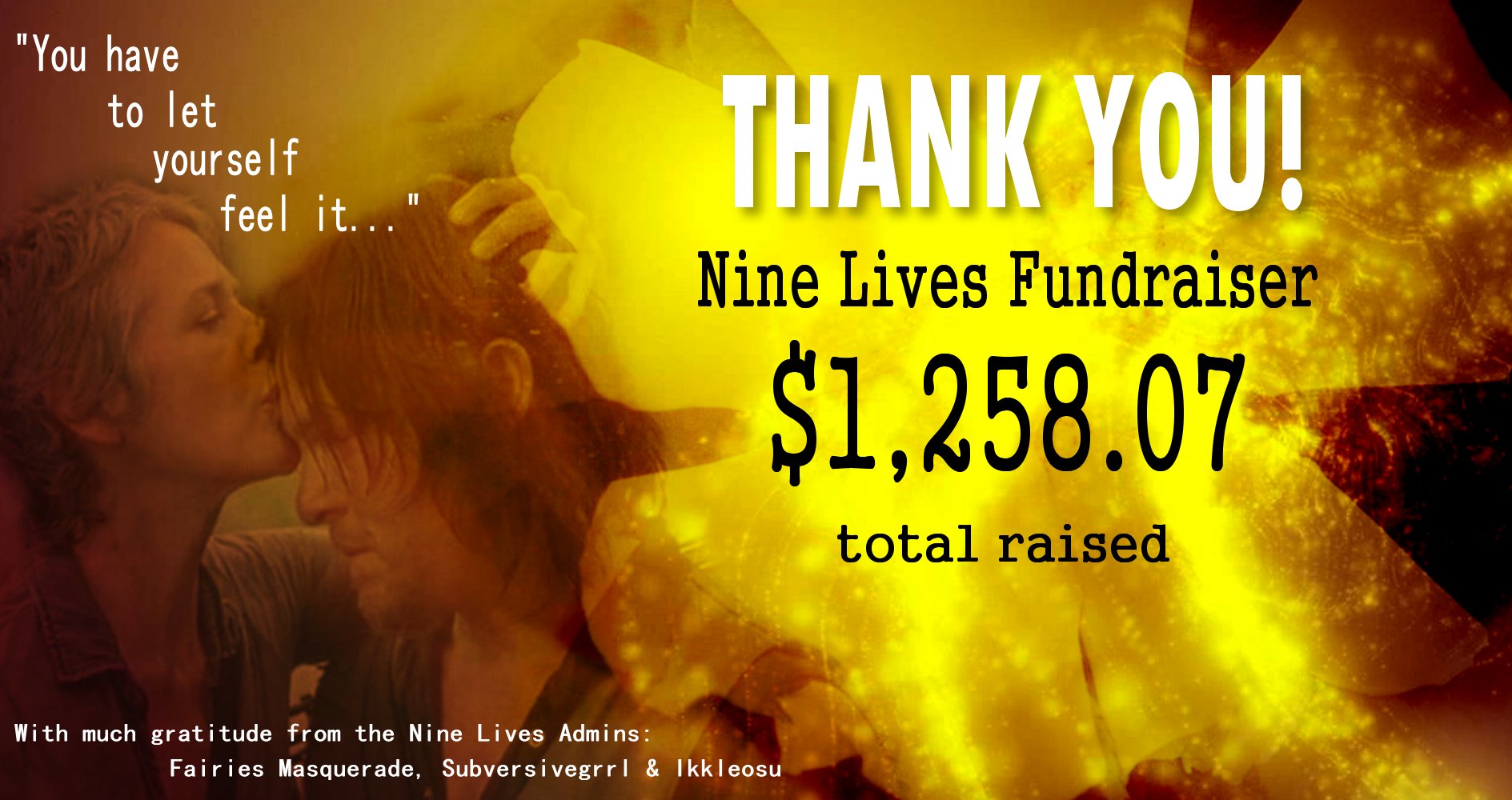 We are very pleased to announce the total amount raised in our first Nine Lives fundraiser is $1,258.07!!
We're going to give thanks and wax sentimental shortly, but before we do, we have a few announcements to make.
Winner of the Norman Reedus Autograph Lotto
Once donations closed, we assigned a number to each donation. We then used a random number generator (thanks random.org) to pull our winner. Congratulations to the new owner of our one of a kind Daryl Dixon photo autographed by Norman Reedus himself…
LAH!
Your shiny new autograph is headed your way. Woot woot!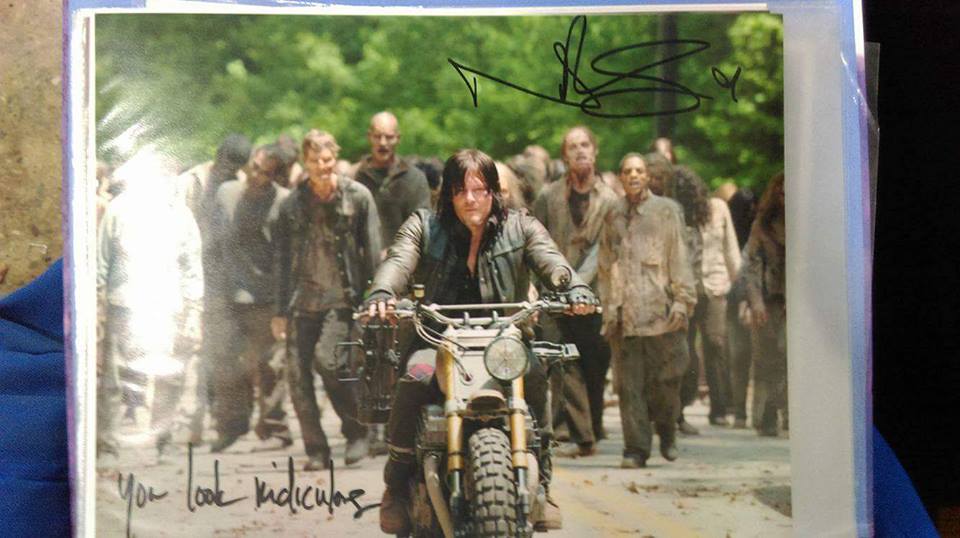 Graphics Auction Winners
Our graphic auction was a rousing success. We wanted to thank our spectacular artists for donating their time and talents to our cause. And now, without further ado (haha got it right this time, Subs! -- FM), here are our list of winners for our Fan Artist Graphics Auction:
     Artist                       Winner
     Alannastara              jaibhagwan
     caryllover                 annie319
     DarylRocks               untapdtreasure
     Dixonscarol              geektaire
     untapdtreasure         jaibhagwan
     Ikkleosu                   chicakdee282
Winners and artists will be sent a PM with details on providing and receiving their graphics. If you have any questions, PM an admin.
And now, it's time for that sentimentality we warned you about:
Our most profound thanks to those who donated. Truly, there is no donation too small. Every cent raised will help us moving forward. We cannot thank you enough for all the support shown towards Nine Lives in recent weeks, financial and otherwise. Many of you sent messages showing your support for Nine Lives even though you couldn't donate financially during our fundraiser. Those words, that support, mean just as much to us behind the scenes.
Though the fundraiser is over, many express a wish to be able to donate when they have the means to do so. By popular request, we are leaving the Donate button up on the site.
Nine Lives is, most of the time for us, a job. One that we volunteered for willingly, even as some days it threatens to drown us. It's an outlet of creativity, a playground for our fandom, a home. It's also expensive, time consuming and exhausting. To see our community come together for us, for the Archive, reminds us why we all agreed to do this and what we're working for. You're trusting us with the fruits of your creativity, and that isn't a charge we take lightly. Thank you for being with us, for trusting us, for taking Nine Lives into yourselves and making it your home. When this fandom pulls together in positive ways, amazing things happen. We are capable to great works that make real differences in people's lives, and this place is proof of that. 
Go forward. Write. Read. Review. Chat. Laugh. Love. And as always, Caryl on.
Much Love from YOUR Fangirls,
Fairies Masquerade, Ikkleosu and subversivegrrl
--FM, Ikkles and Subs on November 16, 2016 10:13pm
0 Comments
GRAPHICS AUCTION!
Good morning, fellow Carylers! It's Graphics Auction Time!
Thanks for bearing with us through the hiccups. We've learned a lot while organizing this first-time fundraiser, mostly about having things better in hand before we launched... but hey! You've come through like the champs you always are.
As for how these silent online auctions will work: We're using the charity auction site 32Auctions. 
If you've ever bought anything through an Ebay auction, you already know how this goes: You enter the top amount you're willing to pay, and the auction service automatically enters the next bid increment on your behalf, up to your max. If you get outbid, you'll be notified.
***ALERT: you need to choose either "exact bid" or "proxy bid" when you enter your amount. "Exact bid" is the default. The "automatic bids until the max is reached" option is what is called "proxy bidding."***
The auctions will run until 11:45 PM (Eastern time) on November 15th. Once all auctions have closed, we will put the winning bidders and their respective artists in contact to work out the details of content and delivery.
Any questions?? PM subversivegrrl, ikkleosu, or Fairies Masquerade.
Now go forth and support your fan art creators, and simultaneously support Nine Lives!
--subversivegrrl, ikkleosu, fairiesmasquerade on November 06, 2016 8:52am
0 Comments