Shoutbox
coreenfw
01/18/18 08:43 am
Natasha-Dixon... yeah, we like him okay around here, lolol. 😉😜
chemfemme
01/18/18 07:31 am
Congrats to Lilabut for FSOTW! Lovely story with a terrific opening passage!
Natasha-Dixon
01/17/18 12:23 pm
Hii :) thank you for the welcome!! Haha almost like Daryl Dixon is a fan favourite or something? :P
lilabut
01/17/18 11:13 am
awww thank you guys so much for the FSOTW :)
DixonVixen
01/16/18 01:11 pm
Welcome Natasha-Dixon! There's a lot of us Dixons here :D
subversivegrrl
01/16/18 09:01 am
Don't forget to sign up for the January "cliches" challenge! http://ninelivesarchive.com/...d=186
coreenfw
01/16/18 05:22 am
Such a good story!!!
Ikkleosu
01/15/18 07:55 pm
Illuminate the Heart by lilabut is this week's FSTOW! For all those who enjoy a good baby fic.
Natasha-Dixon
01/15/18 05:06 pm
hiii :) thank you for the welcome
TeenageWerewolf
01/15/18 03:02 pm
anyone wanna do an extremely angsty vid/songfic with the song "the ice is getting thinner" by death cab for cutie? can't stop listening to it and thinking about them!
subversivegrrl
01/15/18 09:47 am
Welcome new author Natasha-Dixon!
subversivegrrl
01/14/18 12:53 pm
Wow, 250 authors and closing in on 3000 members!!
Miss Starfire
01/13/18 04:33 pm
Shout-out to Angela Kang! Please bring us canon Caryl!
princessdeirdre1
01/13/18 06:30 am
Really loved the" featured story"aspect of the site. You get to discover some gems and REDISCOVER some too. "Pretty" was so good and I read it awhile ago but never reviewed. Happy to see it pop up!
littleshelly0619
01/12/18 10:00 pm
EleanorK!!! ❤️❤️❤️
EleanorK
01/12/18 05:25 pm
hey yall - fun to drop back in these parts and enjoy some Caryl!
Amanda Hawthorn
01/12/18 03:22 pm
He's home but we're all totally exhausted. I'll attempt to get the next chapter up tomorrow. Thank you for the support ❤
coreenfw
01/12/18 01:46 pm
He seems to be stable and home again... I am sure Amanda will be here soon!!
CharlotteAshmore
01/12/18 11:23 am
Poor Goober *sob* I hope he's going to be ok.
coreenfw
01/12/18 05:21 am
Tied up, not toed up... lol.
coreenfw
01/12/18 05:20 am
Amanda wants everyone to know she has been toed up and her next chapter will be late. Her dog has been having health problems... she has had to deal with that right now. She asked me to let you all know... ❤️
Trogdor19
01/11/18 09:52 pm
Yup, should be a once a week thing!
subversivegrrl
01/11/18 03:48 pm
Crap, that looks like it would have been fun but I missed it. Looks like they'll be doing it next week too?
Trogdor19
01/11/18 10:39 am
Hey guys- there's a new fanfic writer's chat event on Twitter, Wednesdays at 1pm EST, organized under the hashtag #FICWIP. Here's a link for more info: https://twitter.com/...54817
YokaiShinari
01/11/18 06:49 am
Carylers Happy Place! Yes! Congrats! Much love!
HAPPY FOURTH ANNIVERSARY, NINE LIVES!!!
Four years, folks. Four exciting years since Ravenesque had the original idea to create a Caryl-only fanfic archive. Four years since we became an island in a sea of fandom madness. Four years of community-building, fabulous stories, experiments (some more successful than others), occasional drama, and camaraderie. It's been a wild ride, and we're glad you've been around to share it with us.

So how do you celebrate four years? Is that the tin anniversary? Paper? (that would be appropriate.) Egg salad? Glitter?

We've already announced the next challenge, with prompts designed to get your creative juices flowing, but the other thing we're really excited about is THE RETURN OF MEMBER OF THE MONTH!!

The point of taking Member(s) of the Month offline and revamping it was twofold: 1) to encourage community involvement, and 2) to eliminate the perception of MOTM--valid or not--as a popularity contest. (We didn't intend for that revamp to take more than a year, but--it did. Sorry.)

It's a whole new game this time around: whereas before we had two members of the month, one author and one reviewer, under the new system there will be only one per month. Whereas the Members of the Month were previously selected by nomination by other members, now they'll be randomly selected from among those Nine Lives members who in the previous two months have either 1) published or updated a story, or 2) contributed at least 5 reviews.  

The selection process is all automated now, thanks to the stellar tech skills of silversundown, fairiesmasquerade, and meeshie. The list of eligible members is generated automatically: all the admins have to do is push a button and the system randomly spits out the name of one member from that eligible group. Then we get in touch with that person, ask them a series of nosy questions related to fanfic and our favorite ship, and have one of our fabulous graphics team members make them a spiffy banner to go in their member profile!  Winners are then eliminated from the pool for the next 12 months, after which they'll be eligible for selection again.

We'll be announcing the first MOTM selected under the new system on January 28th. Going forward, the MOTM will be announced on the first of the month, like they were before.

Like with MOTM, we continue to try to find ways to improve the site. As always, if there's any improvements or changes you'd like to see made to the site, let us know! Sometimes we find they're not technically possible to accomplish (as we learned a couple of times this year), but we'll always try to make things work better for you.

So - happy anniversary, bring on the champagne! We're so glad you're here with us.
--Nine Lives Admins on January 09, 2018 9:37am
1 Comments
January Fanfiction Challenge: Goofy Cliches & Phrases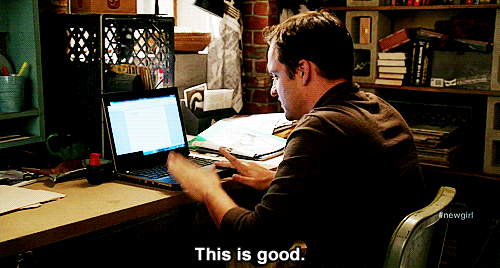 Kill two birds with one stone...a bird in hand is worth two in the bush...the pot calling the kettle black…
Chances are you have heard one of these phrases before. Trite phrases and goofy cliches -- that is what our January Nine Lives Fanfiction Challenge is all about! We'll give you a list of cliches and phrases, and you must pick one to use in your fanfiction piece. Easy Peasy Lemon Squeezy! Amirite?
List of suggestions:
In for a penny, in for a pound
Like a house afire
Never say never
The pot calling the kettle black
Easy peasy lemon squeezy
All is fair in love and war
All is well that ends well
Every cloud has a silver lining
Time heals all wounds
They all lived happily ever after
Read between the lines
Fall head over heels
Waking up on the wrong side of the bed
The quiet before the storm
Between the devil and the deep blue sea  
If you do not see a phrase above that strikes your fancy, here is a link to a list of more phrases from which you may choose.
Now for the Rules:
Challenge Dates - Submission date is January 27; Posting date is January 28.
Open to - Fan Fiction (Caryl and McReedus)
The Prompt - Pick a trite phrase or goofy cliche, from the lists provided, to use in your fanfiction piece.
The Deadline - All submissions must be turned in by midnight on January 27 Pacific Standard Time (PST).
Send a PM to silversundown  or the-space-between1013 on the Nine Lives site that you want to enter the challenge. Even if you're not sure you'll have anything ready in time - let us know you're planning on it. *YOU MUST DO THIS TO BE INCLUDED.*
For FANFICTION:
WRITE! Stories must be at least 100 words.
Multiple entries are allowed (and so veryyyy welcome)!
Do not upload it yet! Wait until Saturday, January 27th to upload your fic – just like in challenges past, we will be suspending automatic validation for that day for all authors who enter the challenge. (This is one of the main reasons why you need to let an admin know you'll be participating.)
Submission Day is Saturday, January 27th – post your fic. It will not appear on the archive, but will enter our validation queue. Make sure you submit it under the Nine Lives Challenge category!
Publication Day is Sunday, January 28th – We will post the master list and all of the challenges entries so everything shows up at once. That way, we're all surprised by what we get to read!
Any challenge fics posted before January 27th will be deleted. IF FOR SOME REASON you are unable to post on the 27th, please send a PM to one of the challenge mod - we will work with you.
Any questions? Post here or privately to one of the challenge mods. Happy ficcing!
--The Challenge Mods on January 08, 2018 3:12pm
2 Comments
December Writers' Chat: It's Your Turn!
January's coming soon! But, wait, weren't we talking about December? Well, yes, but we need to talk about January in December. Just go along with us for a minute here.
Because in January we're going to be celebrating Nine Lives' FOURTH ANNIVERSARY. Four full years of Caryl goodness, and you've been at the heart of it all.
So this time out, the chat is going to be about looking forward to our fifth year - what kinds of things would you like the chat to tackle? What topics would you like us to revisit? Have you found it helpful to your writing when we do writing sprints? Are there technical areas you're unsure about and would like some help with, like dialogue tags, or punctuation? Do you need help punching up your action scenes? Are you stymied by that tricky old adage, "show, don't tell?"
This is your opportunity to help guide where the chats go in 2018! Please join us on Thursday, December 7th, at 10 pm Eastern time (click on that handy-dandy TIME ZONE CONVERTER at the top of the Events section to check your local time) and bring your fondest hopes for the upcoming year's chat topics to share!
(FYI: We're skipping the January 4th chat, due to the proximity of the New Year's holiday.)
--The Chat Team on November 14, 2017 5:40pm
0 Comments