News
Big Beautiful Fundraising Extravaganza
Hello friends, neighbors, fellow fans and family of this ridiculous fandom that has claimed us all! The premiere of Season 7 of our favorite show is less than 24 hours away (finally!) and I think we're all pretty ready to see Daryl and Carol on our screens again, amirite? Well, we all know what this is, so I'm gonna dive right in.
At the urging of all the NL staff, and many of our members, we're going ahead with something that has been encouraged and requested for quite a while now.
IT'S FUNDRAISER TIME!
Lets talk a little bit about the logistics of the archive. As we've said previously, since NL split off from our former host site Elysian Fields, the entirety of the archive has been paid for by Fairies Masquerade. Our first year was, on the tech side, rocky. We ended up changing web hosts, went through a few technical glitches and a massive hack. We've learned a lot though and are much more equipped and prepared for the ups and downs of running an archive of our size. We are firm in our foundations, stable (lord, please don't let this post jinx that) and steady.
But we don't want to just hold steady. We want to grow, and expand Nine Lives. More server space, better security, upgrades to our archive software are first on our list. We've talked about the potential of adding a gallery for fan art and possibly integrating a forum to make the site more interactive. Any and all of these require additional funds. While FM is willing and able to continue paying in full for Nine Lives, we have had so many offers from members to donate that we're taking you all up on it.
Our fundraiser will run November 1-15. In true Nine Lives fashion, however, we're not just going to post a Donate button to our PayPal account. We're adding a few twists and turns to keep things exciting for all of our Nine Lives family. We have 3 events that will happen during our fundraiser that should keep everyone excited. I'm going to start with the smallest and work my way up to the big kahuna!
First and foremost, we will be holding a live chat with the Nine Lives admins on Sunday, November 6. Our 'Ask the Admins' chat is a chance for us to touch base with all of you, and a chance for you to offer ideas and suggestions as well as ask questions of us about our archive, where we've been and where we're headed. 
Our second event is something we think is very cool. We've asked for volunteers from some of our fandom's best graphics artists for help with this one. We're holding an auction as part of our fundraiser for custom creations of your very own. We'll post a list of the artists who have volunteered on November 1 and you'll get to bid on having a specific artist create a custom graphic for one of your own stories, or for your profile or blog!
And finally, we come to it. The Big Kahuna. Thanks to an incredibly generous donation from kaoscraze82, look what we have!!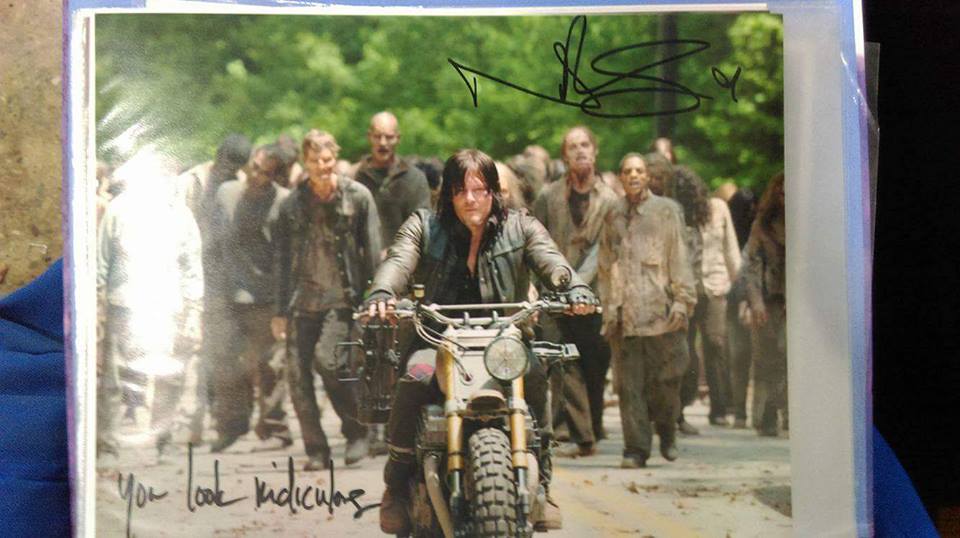 That's right, folks!! We have a Daryl Dixon photo signed by the man himself, Norman Reedus! Our final fundraiser event is a lottery for this very autograph. Donate a minimum of $5 to Nine Lives under your Nine Lives username or with a valid email address between November 1 – 15 and you'll be automatically entered to win this one of a kind autographed photo of Daryl Dixon. The winner will be selected by random draw on November 16, one day after the fundraiser officially ends.
So to run down, here are the dates and details of our fundraiser:
Dates
November 1-15
How to Donate
Our Donation button will be posted to the site on November 1. Click on the links provided to donate. There will be a comment box on the donation form – make sure you enter your Nine Lives username OR a valid email address.
Events
Daryl Dixon Photo Lotto: Donate a minimum of $5 to Nine Lives under your Nine Lives username and be entered to win the above autographed photo in a random drawing to occur on November 16. Only 1 entry per Nine Lives account/email allowed! Donations must be received by 11:59pm EST on November 15 to be accepted.
Custom Fanfic Graphic Auction: Bid on your chance to have a custom graphic designed for one of your stories hosted on NL or for your profile or blog. Full details for this event will be posted separately on November 1.
Ask the Admins Chat: Hosted in the Nine Lives Chat Room on November 6. This is your chance for some live face time with the Nine Lives admins and a chance to ask questions, offer suggestions and ideas and get some real time feedback from us on what you'd like to see happen with Nine Lives.
How Donations Work
On November 1, we'll post the donations button to our PayPal account on the archive and through our various social media accounts. We'll be accepting donations through November 15. 
100% of the funds donated will go towards the running of the Nine Lives Archive. Our staff, including the admins, are entirely volunteers and are not paid for their services. No donations will be put towards personal use for any staff member of this archive. The money donated will be kept in a PayPal account dedicated solely to Nine Lives and expenses will be tracked by the NL Admins. 
There you have it, folks! That's what we're up to in November. We hope you like what we've cooked up for you, and we'll see you there!!
--FM, Ikkles & Subs on October 22, 2016 7:49pm
2 Comments
Comments